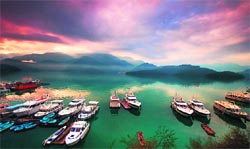 There is the Taiwan of popular imagination: an economic giant despite its tiny size, an Asian Tiger revelling in its formidable clout, an export-driven economy churning out cheap commodities ranging from computers to shoes. But there is another Taiwan too, one that has been hidden from view of the Indian visitor who has so far comprised either the business traveller or, in recent times, the yuppy 'incentive' tourist. Why Taiwan has eluded the Great Indian Middle Class Tourist, forever in search of new travel destinations, is a mystery.
Possibly few would know that Taiwan's real name is The Republic of China. Fewer still would know that while China, or The People's Republic of China, considers the area known as Taiwan to be a part of its territory, the Taiwanese regard mainland China as an extension of its territorial space! Regardless of this David vs. Goliath analogy and regardless too of its 'real' name, the island holds out immense promise for the Indian tourist, especially families with children who set aside an annual budget for leisure travel.
Aware of its formidable reputation as a manufacturing giant, I went with visions of an island awash with factories and industries, SEZs and hi-tech industrial parks. Instead, I was struck by the breath-taking beauty and pristine natural charm of its countryside. The urban sprawl of Taipei, the capital city, gives way most spectacularly to scenes of pastoral idyll and scenic splendour: gentle hills clad in a seemingly impenetrable green cover, gurgling mountain brooks, orchards heavy with fruit, fields and terraces a'glimmer with all shades of green, in short, everything that reinforces one's idea of a tropical paradise. Looking at this 'other' Taiwan, I am not surprised that the Portuguese called it Formosa, meaning 'beautiful island'.
Lying on the Tropic of Cancer, this island – shaped like a sweet potato – has a series of mountain ranges running from the north to south leading to a gently sloping western plain. And it is on this western side that most of its population resides. But it is in its interior that Taiwan hides its real beauty. The area around the Sun Moon Lake in the exact middle of the island, known rightly as the 'Heart of Taiwan', is not only the most scenic but also most reminiscent of the island's aboriginal past. The aquamarine lake ringed by green hills is like a magical lost land straight out of a fairy tale. Here, you can be lazy and just loll about taking in the misty waters; or you can be energetic and explore its lovely alpine setting. Hire a bike and choose one of the specially-planned bikeways along the periphery of the lake; or take the ferry to Lalu Island or hop on a cable car that will take you across mountain peaks. The Formosan Aboriginal Culture Village gives a peak into life at the island before 'civilisation' came knocking. A lunch of chicken-rice served in a pretty wooden barrel at the picturesque Cedar Tea House can be followed by shopping for local black tea, pottery and carved wood handicrafts as well as sun-dried locally-grown cherries, plums, peaches, apricots, apples, pineapples, mushrooms, cherry tomatoes. A night's stay at The Lalu, with each one of its 96 elegant rooms overlooking the lake, allows you to make the most of the serenity that lies at the heart of this charming country.
My itinerary, drawn up by the Taiwan Tourism Board, includes visits to Taichung, a large city on the western coast; a drive through the pretty Nantou County; whale watching off the Wushi Harbour in incredibly ink-blue but choppy waters; a visit to the Leofoo Theme Park with its mind-boggling variety of rides, adventures and safaris; a DIY session of making sun cakes with master chef Chen Shun-Chuan of the Pao Chuan chain of pattiseries; a tea ceremony presided over by a Tea Master who raised the business of making and pouring tea to a fine art form; and a tour of the whimsical Lin Lin-Hsin Puppet Theatre. In-between, there is time for a quick tour of the National Palace Museum – the fourth largest in the world -- to gaze at its sumptuous treasures culled from across Imperial China and preserved for posterity. Other Taipei must-dos are: a ride to the top floor of the Taipei 101 – the tallest building in the world till the Burj Khalifa came up in Dubai; a visit to the harbour; a traditional massage; lunch at the quirky Five Dime Boathouse and dinner at the Modern Toilet (that is, if your stomach permits its stomach-churning interiors); and a shopping expedition at the electronics market.
Of course, no visit to Taiwan can be complete without at least one evening spent at a night market. The one at Shilin, the largest in Taipei, is a riot of fun, food and fabulous shopping. In between buying armfuls of clothes, accessories, shoes et al remember to snack on white karela juice, piping hot corn in a pungent barbecue sauce, an assortment of cut fruit and fried, steamed and braised fish and fowl and every (un)imaginable kind of meat.
Coming away after a week, I am reminded of the words of Francis Hu, our tourist guide: 'Taiwan is not a country; it is an idea.' For me, it is an idea that works wonderfully well.
Travel: China Airlines operates twice weekly direct flights from Delhi to Taipei
Food: Enough options for vegetarians available; eating from street vendors is safe and inexpensive.
Currency: Taiwanese$ 1=INR 1.87
Best season: October to February
(This article first appeared in The Tribune,Chandigarh, 26 August 2012)